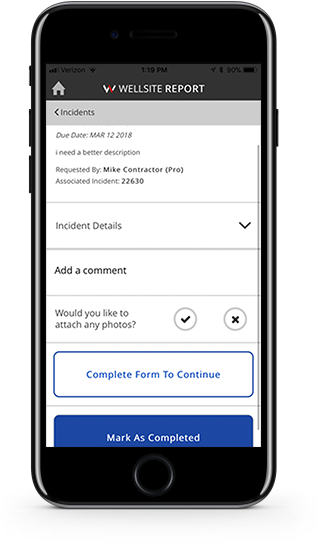 Corrective Actions
Utilize our incident management workflow to assess and investigate incidents, manage and communicate relevant information, and take corrective actions.
Tasks/Action Items

Assign tasks to internal employees with due dates to ensure that follow up measures were completed
Receive overdue notifications to help keep employees accountable
Following up on recorded incidents helps minimize future exposure
Easily view all tasks and action items in Wellsite Report
Easily filter tasks to export data
Mark task/action items complete from the app
Job Management
Manage your jobs more effectively with real-time updates of work completed, unforeseeable issues, and unanticipated delays.
Project Updates

Stay current on project updates and the status of jobs within the updates section of projects
Drill down on updates by job and by project to see when work was completed, as well as see if any issues or standby happened
Create and submit updates in seconds
Submit general updates that accommodate any scope of work
Submit stage-based updates if work is stage-driven
Cloud software allows you to have full electronic archive of all project updates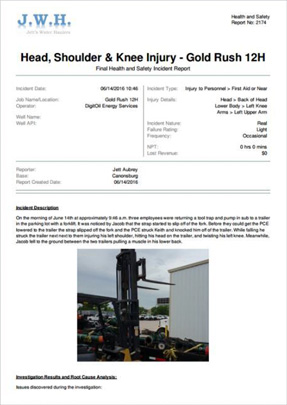 Professional Reporting
Easily create professional, standardized reports during and after the investigation process – share reports with relevant parties and store reports for later reference.
Preliminary and Final Reports

Create preliminary or final reports on the incident, depending on the status of the incident
Contractors can choose whether to show the reports with the hiring operator as they're created
Use a standardized reporting format to take the guess work out of how to structure and deliver reports internally and externally
Use external reports created in your favorite word processor and save in our incident management workflow

Best Practices and Key Report

Create best practice reports on incidents quickly and easily by leveraging the information already entered in throughout the incident management workflow
Mark reports as key reports to disseminate to internal employees (reports created internal or external)